Let's get back to our regularly scheduled programming and share with you one of the blogs on my reading list! I love meeting new bloggers, and meeting them in real life after you've been reading their blogs for a while is always a lot of fun.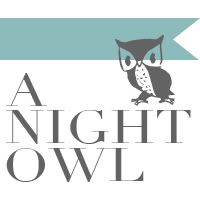 I met Kimberly from A Night Owl Blog a few weeks after we started following each other on Twitter 7 Instagram! We met for the first time at The Glitter Academy event back in March! It was so great to finally meet in person and put a face to the name! She's just as sweet in person as she is on her blog.
She's new to blogland, but her blog is growing amazing and she's got some awesome things going on over there! A weekly Pinterest link up party, and Instagram link up to share all those awesome photos you're taking and sharing!
She also shares some fun projects, like crafting and thrifty finds! Which I really enjoy because I love seeing a good deal.
If you haven't seen her blog yet jump on over and check her out! Say hello, and tell her I sent ya!
Click the banner link above or click here: