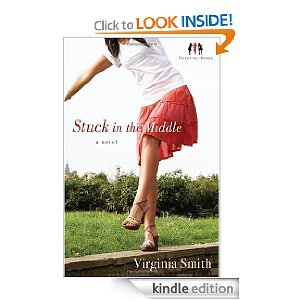 Book #10 was a happy accident.
Why a happy accident? Well, because my sister
got me this
for my birthday. I was looking for a book to read on it, and went to the "free" books section and read the description on this book. Here's the book description from Amazon.com
Joan Sanderson's life is stuck. Her older sister, Allie, is starting a family and her younger sister, Tori, has a budding career. Meanwhile, Joan is living at home with Mom and looking after her aging grandmother. Not exactly a recipe for excitement. That is, until a hunky young doctor moves in next door. Suddenly Joan has a goal--to get a date. But it won't be easy. Pretty Tori flirts relentlessly with him and Joan is sure that she can't compete. But with a little help from God, Allie, and an enormous mutt with bad manners, maybe Joan can find her way out of this rut.
Book 1 of the Sister-to-Sister series, Stuck in the Middle combines budding romance, spiritual searching, and a healthy dose of sibling rivalry.
It's been a long time since I've read fiction, so long I can't even remember the last time I read something fiction. It was probably a Nicholas Spark's novel, but I can't even remember which one cause it's been that long.
Moving on....
This book sounded interesting, it was free, I was in.......
This book turned out to be more than just the store of 3 sisters, and a girl trying to find herself. There was a surprise little love story in the middle of it.
I got lost in the words. Reading words on a page describing feeling and emotions are so much better than just watching them on t.v. or in a movie. You just get a better sense of what the characters are feeling, and you feel it to I think even more through written words.
I really loved this book, I won't spoil it for you because I think you should read it for yourself. Now, I want to go read the other two books in this series. This book definitely leaves you hanging, and wanting to know more about these characters and what will happen.
Go here
to pick up the copy for free via your Kindle.
(****) my rating