I love shopping for new seasons, and I think these days I enjoy shopping for my children more than myself. There's so many fun options for kids and I love exploring our fave stores for new items to add to their wardrobe. Even more so I love finding new brands that offer great style at affordable prices. I'm all about fashion, function and not breaking the bank when it comes to clothing & accessories for my little ones.
I was asked to shop and give a review of the
Cookie's Kids
website and pick out some Fall fashions for my daughter. I'd never heard of their brand before but I was excited to dive in and get to know more about their company. I love finding new deals and clothing stores that I may not have heard of before in order to find something unique for Ava's wardrobe.
They have 7 stores in the NYC, Bronx, Brooklyn and Jamaica areas. They also have an online store and website which is where I did my shopping. From the comfort of my own home, but if you live in one of those areas I encourage you to check out their stores too, for more location info
visit here.
#CookiesKids
In 1972, a young man named Cookie and his brother Marvin went into business together. They rented a 1600 square foot store in Jamaica, Queens, fixed it up, bought inventory and Summer and Fall, and opened a day after Thanksgiving with a full stock of holiday toys. The toys were a success and they put the extra money toward buying children's clothing for the next season. When that did well, they bought more clothing. The business was on it's way.
As the brothers Cookie, Marvin and Sonny, who had come in as a third partner in the business, began to open new stores in new locations, inventory expanded. Besides the latest fashions, our customers wanted shoes, toys, backpacks and accessories and we were prepared to deliver.
By the late 1990's there were six superstores throughout the NYC area, and though they previously had different names, by that time they were all named Cookie's Kids. Also in the late '90s came an important addition to Cookie's Kids' inventory: school uniforms. It was the steady success in uniform sales that paved the way for founding CookiesKids.com in 2007, which originally sold uniforms and soon after the entire Cookie's Kids Inventory.
Sounds great, right?! I thought I'd share with you a little bit more about my shopping experience. I put together a little inspiration from some of the things I found that I loved for both boys and girls alike. They have a lot of selection to choose from everything from accessories, shoes, dresses, pants, jeans and outfit sets.
SO many fun things right? When shopping for Ava for Fall I knew I wanted to look for a few long sleeve shirts. Even though it won't cool down here in Arizona till October she'll still need a few good long sleeve shirts for the season. I also wanted to look for jeans and pants too, and I love buying outfit sets! I think you can get a lot for your money with these since you can mix and match the tops with different bottoms or denim. You don't just have to wear the set as it came, and I like that. Loved this Black & White Houndstooth pant with ruffle shirt. So cute.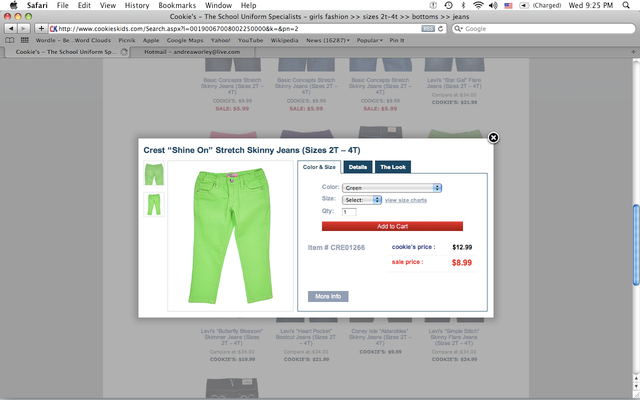 These lime green skinny jeans
I just love. They might be a little impractical but I think they are fun and with a hot pink shirt so my little girl. Isn't that what fashion is about, mixing it up even for little ones!
So here's my cart after shopping, I was able to get two long sleeved shirts, one pant/shirt set and a pair of skinny jeans all for under $30! Plus
their site
has tons of great deals and I was able to get free shipping for my order too!
Everything was shipped really fast too, I ordered on a Sunday and Monday it was shipped and arrived on my door step by Friday. I was impressed by their fast service, and the email notifications about my order were awesome as well to help in tracking when it would be here by.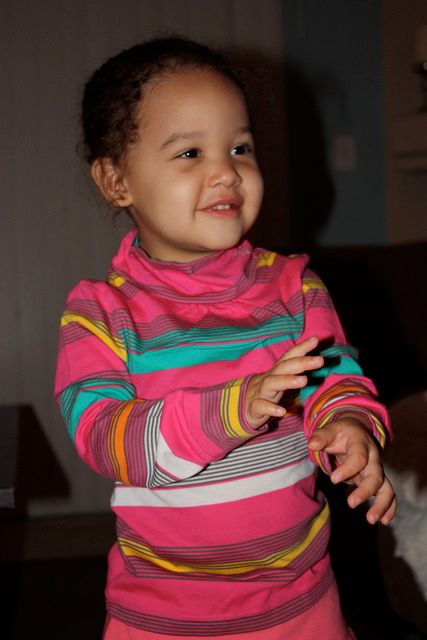 all of our fun outfits!
If you're looking for some fun new fashions for the Fall season for your little ones I encourage you to check out their site. They have tons of things for both boys and girls, I think you'll be pleasantly surprised at the fashions and their affordable prices.
Cookie's Kids would like to offer all Worley House readers a special promo code for FREE shipping, use code:
worleyhouseblog
for
Free Shipping on all orders, no minimum! Excludes Furniture, Gear and Toys. Contiguous U.S. Only. Expires 11/30/12
I am a member of the Collective Bias™ Social Fabric® Community. This shop has been compensated as part of a social shopper insights study for
Collective Bias
™ and
CookiesKids

.

com
#CBias #SocialFabric, all opinions are 100% my own.