I'm excited to share with you a great date night in idea for you and your spouse! Usually with date nights you think of always going out, but we hardly think that we can have great date nights at home. Don't get me wrong a love a good date night, but sometimes we can't always get out due to lack of childcare. So I like to take these opportunities to make great date nights that we can also do at home.
We headed to Smart & Final to look at their selection of Cattlemen's Finest beef and pick something out to grill up for date night. Also, I think it's awesome that I can show you another way to grill up for the summer! We have a regular gas grill that we use often, but sometimes when we don't want to turn on the grill or when it's cooler out we like to use our grill pan inside on our stove. This is also a great alternative for those who may not have a gas grill of their own.

I was really surprised at the great selection they had to offer. Everything from roasts, sirloin cuts and rib eyes all for really great prices. I also loved the great little tags on most of the cuts that told you what each cut was best for like; roasting, braising, or grilling. Which is handy if you aren't familiar with different cuts of meat and what they are best for. That makes it simple and easy, and that's really great for #SummerGrilling.
We chose a sirloin cut that was big enough for the two of us to split. We also picked up some potatoes for roasting. As well as squash and zucchini for grilling as a side.
When we got home I was able to prep everything and get it ready. Turn on your oven to 400 degrees. I chopped up the potatoes and seasoned them with olive oil and Italian seasoning, garlic salt and pepper. Throw these on a cookie sheet and place in the oven for 30 minutes.

I also chopped the veggies and added 1 yellow onion to the mixture, and seasoned them with salt and pepper. Set these aside until after you grill your meat.
Next I generously seasoned the steak on both sides with pepper and a little salt. Then I got my grill pan screaming hot, and seared my meat on each side for 3 minutes.

See those awesome grill marks? Yes, that's what you want on each side. Once you're done searing place the meat onto a cookie sheet and place in the oven for 12 minutes for well done. If you prefer your meat medium or raw you'll want to cook it for less time than this. Adjust accordingly.
While your meat and potatoes are in the oven, wash your grill pan and then start grilling up the veggies. Take out your meat, and let it "rest" for 5-7 minutes before you cut into it.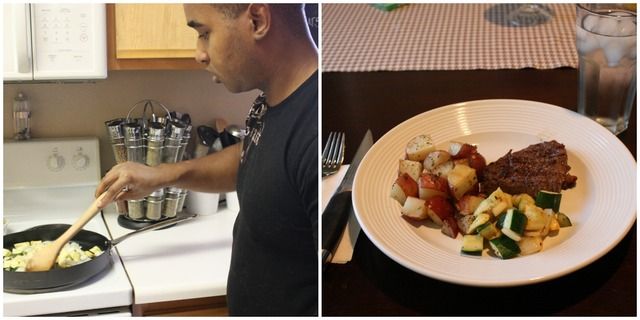 You can also let your Hubby help and get in on the grilling too!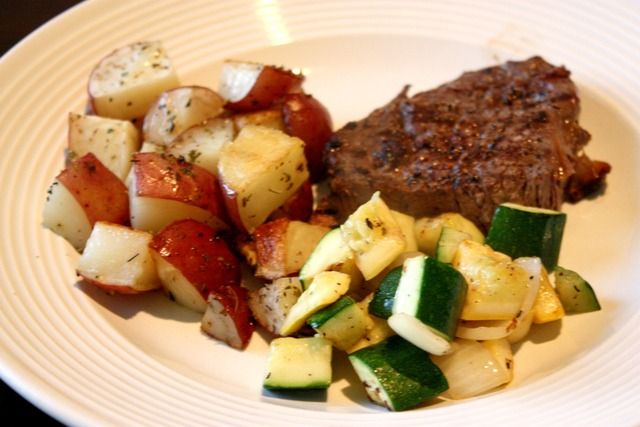 Cut up your meat, plate your veggies and serve!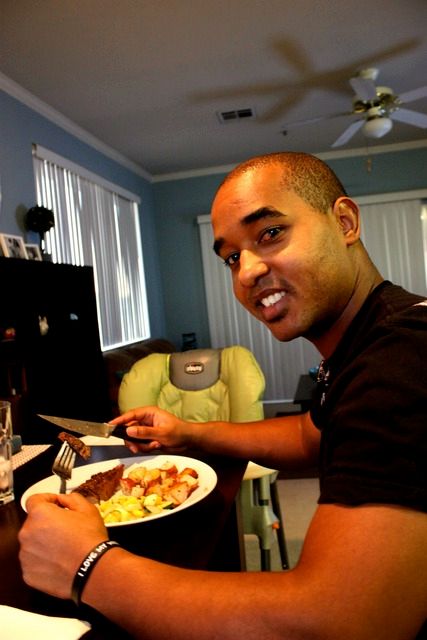 Enjoy the date night with your love. We put our daughter to bed, and then had dinner alone just the two of us!
Take some time to visit these great links to find out more about Smart & Final and Cattlemen's Finest:
"I am a member of the Collective Bias™ Social Fabric® Community. This shop has been compensated as part of a social shopper insights study for
Collective Bias
™. #CBias #SocialFabric All opinions are 100% mine.