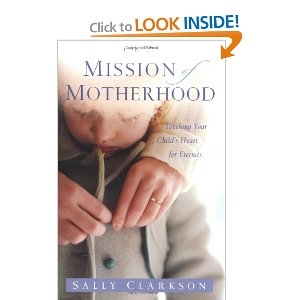 I finally finished this book that I started over Christmas. It's not a big book, but reading these days takes me a little longer maybe than most. It's a great book, and I wanted to share with you why I loved it so much. If you're looking for a book to take a Godly perspective about motherhood and its mission this is a great book.
Her book really encourages stay at home motherhood, I know this might turn away some of you from reading this book. There's always much debate about working moms vs. stay at home moms. And here's the only thing I'll say about the subject, is that every family has to choose what works best for their family. And us Moms need to be more supportive and encouraging of one another.
With that said said don't discount reading this book, here's some key thoughts that I took from her book. I really encourage you to read it no matter what kind of mothering situation you are in.
* We mothers have the opportunity to influence eternity by building a spiritual legacy in the lives of our children.
* Accepting the call of motherhood doesn't mean giving up ministry, in fact it is your ministry.
* Write down goals for your family and how you will accomplish them.
* Making disciples of our children is certainly part of the mission of motherhood.
* Diligent parents do battle for their children's souls.
* Our vision for our family defines the decisions we make, the priorities we keep.
I would really encourage you too pick up this book, it's a great read and very encouraging for a mother's heart.
You can
find it here
on Amazon.
Have you read any great books on parenting or motherhood lately? I'd love to hear your recommendations.