It's no secret that I have a love for Instagram! I love taking and sharing pics with friends and family. One thing I have never done yet was print of my Instagrams from my account. I was excited when Printic contacted me about trying out their app. I couldn't wait to get my hands on some tiny little instas and figure out something creative to do with them.
Printic is an app you can download right to your phone for free for printing & sharing with friends and family. From there you just create and account and login into Instagram from the app.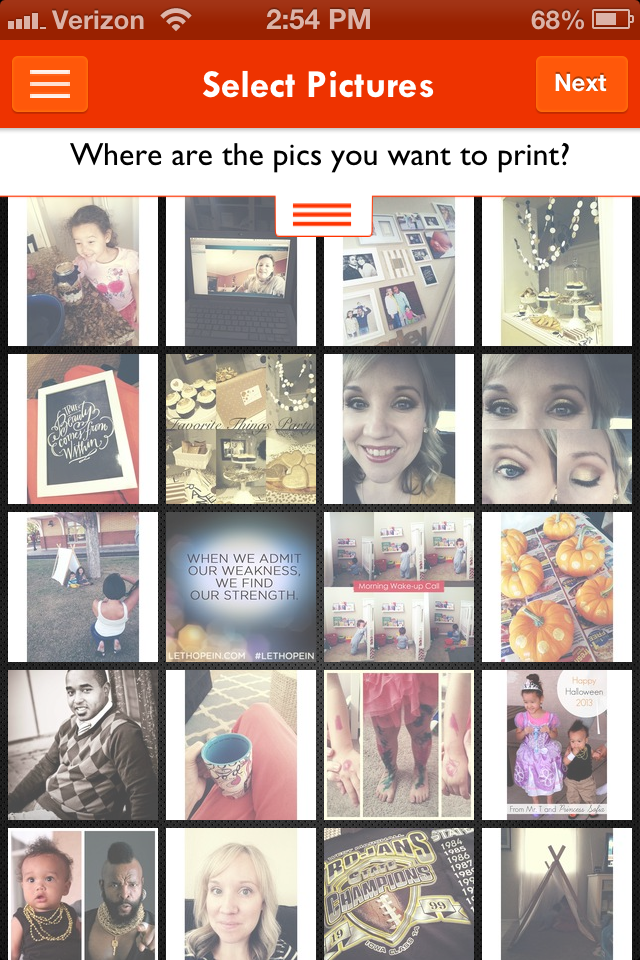 Choose the pictures you want to print, you can add text if you'd like or order them as is. Follow the prompts to finish ordering and in no time a pretty orange envelope will arrive with your prints.
Then you'll have to decide what to do with them! I decided to whip up a little DIY project to display mine. Follow along below for more on that.
JoAnn Fabrics has these awesome open back white frames in many different sizes and shapes. I scooped this one up when it was 60% off making it $12. I bought a can of spray paint to match my children's bath decor.
Couple coats of paint. Wait for it to dry. After it was all done drying I took some left over twine and stapled it to the back of the frame. I did two rows with my twine.
Next it was time to hang my frame up! I've been slowly decorating my children's bathroom so I decided to hang it there. I choose prints that had both kids in them since this is "their" bathroom.
Aren't they so sweet? I love personal touches like this in my home. I love how this project turned out and can't wait to order more. Getting the prints off my phone and into my hands is so fun!
Want to try Printic for FREE? Printic is offering all Worley House readers the chance to try them for free.
Simply create and account, and enter the code below at checkout:
2E3918
code is valid until Dec. 31st.
This is a sponsored post on behalf of myself and Printic. I received product in exchange for this post. As always I only recommend products and or services that I love and would personally use.