One of my goals for the year on my 30B430 list is to establish a better eating plan, and start working out more on a regular basis. I'll be honest and tell you I've been a slacker, and it hasn't been the biggest priority in my life. Getting older has a way of making you realize that you need to take care of yourself the best way you can.
Part of my healthy living make over was to take more vitamins as well, and one of which I've been taking has been 4X-Pro B from Costco. Probiotics are the "natural" stuff that helps take care of your digestive system and keeps everything working. Just like the "natural" stuff found in yogurt!
All I had to do was log into my Costo.com account and order the product straight from their website. Of coarse I did my research and read the facts, compared it to other brands on the market and made my choice.
Then it was sent straight to my door! So easy!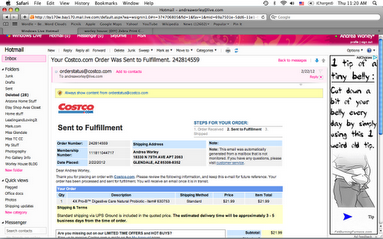 One of my other goals for my healthy lifestyle has been to stop drinking soda, and start drinking more water instead. I've been doing pretty well and haven't had any soda for the last couple months.
Some of my fave workouts over the past few weeks have been these two;
Jillian is brutal, and I pretty much dislike this DVD while I'm doing it but afterwards I'm glad that I did!
Pilates, is a low key workout that I really like as well. It doesn't seem strenuous while you're doing it but afterwards you feel it and that's the best I think.
What about you? Any healthy goals you're working on for this year? Tell me in the comments below!
To find out more about how you can start using 4X-Pro B in your own diet and exercise plan, visit the links below. And make sure to check out my Google+ page to find out more about my shopping experience here.
http://www.costco.com/
This shop has been compensated as part of a social shopper insights study for
Collective Bias
. #CBias All opinions are 100% my own.