I'm excited to have Megan from the blog
Honey We're Home
sharing with us today for the series! Megan has a great blog where she shares about her life as a new mom, decorating their gorgeous new home, recipes and organizational tips! When you see Megan's closet you'll know exactly why I asked her to be apart of this series, it's pretty amazing!
I'm excited to have her sharing today on how she organizes her closet space and what works for her. Join me in welcoming Megan to the blog today. When you're done reading jump on over to Megan's blog
Honey We're Home
and give her some love today!
*****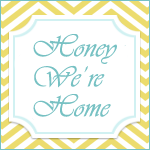 What a fun idea to get to peek inside other people's closets! I'm happy to share mine with you because I'm thrilled with how it turned out, and it really meets all of my organizational needs.
I worked with our builder to design a closet that measures 9'4 x 13'2. It includes an island with cubbies in the middle, a shoe rack, built-in dresser, adjustable hanging shelves, and shelves for purses.
One of the keys to organizing my closet is editing. I am constantly reviewing what I have and donating or giving away what I'm not wearing or doesn't fit. Even though post-baby, not everything fits yet (but almost:), and my "work" clothes are patiently waiting to see the light of day, I feel that displaying them in a nice way honors them and keeps them happy.
Lightweight sweaters are hung using children's white plastic hangers from Target. I like folding them over the hanger versus hanging them because it keeps the shoulders from getting annoying points. The Tory Burch bags are empty, I just like the pattern and pop of color.
Pants are hung on wire hangers from Bed, Bath and Beyond and jeans are on small felt hangers that won't bow in the middle.
Before the shoe rack was built, I counted my shoes to see how much space I'd need. Then I had the top shelf taken out so I could put boots there.
On the right side of the island, I keep my tank tops, casual long sleeve shirts, and shorts/capri pants.
On the left, storage bins from Target hold belts, bikinis, and scarves. The zebra ottoman is from Hobby Lobby.
The flower vase and candy jar are from Home Goods, the runner from World Market, and the clear bin holding my makeup is from The Container Store.
The pretty make up holders are from Anthropology.
Inside the dresser drawers are jewelry, undies, gym clothes, and sleepwear. The full-length mirror to the left of the dresser is where I plop down and do my makeup each day.
I created the
necklace holder
behind the door using Command hooks. Purses are stored on shelves.
The clothes hamper is from Crate & Barrel, and the monogrammed liner is from Restoration Hardware Baby & Child.
The light fixture we chose is from Lighting, Inc. in Houston, Texas and called "Lucia".

And in case you're wondering where most the clothes in my closet come from, here goes:
Nordstrom
If I only have time to find something fast, I head to Nordstrom. They have everything there and their customer service is always top notch. I'm particularly fond of my "shoe guy." I find that now that I'm older, I'm willing to spend more for quality pieces that I know I'll keep and wear for a long time and save on things like tank tops that I can stock up on at Target or Old Navy. I still want the best value for my money, and I feel like Nordstrom delivers. I like their selection and even shop their junior department for fun finds at lower prices. I also shop online because their website is really user friendly with good quality pictures. I can always find great work dresses at Nordstrom.
Accessory heaven. I love to just browse their jewelry, even if I don't end up buying anything. Again, online is great for this. They have a huge variety and many pieces under $50. A few key pieces are all you really need to add some wow to your daily look.
Their shoe department is first rate.
I got hooked on MAC eye shadow, eye liner, and brow pencil years ago and am a creature of habit.
Ann Taylor Loft
I always found suits at Ann Taylor Loft and they have petite sizes, so I never had to alter anything. My most comfy capris (
mommy uniform
) are from Loft. Also, everything goes on sale there and they have coupons galore.
Banana Republic
Banana is another place where I always have a coupon and everything goes on sale. I head straight to the sale rack. Their accessories, including belts, are really great too.
Express
My "go-to" place for button up shirts (long, short, and sleeveless in the summer-it's HOT in Houston!) is Express. They are fitted, which is nice, and I would buy them in lots of different colors, patterns and styles for work.
Target
No matter what's on my "list" when I head to Target, I always see something sooooo cute in their clothing department. And let's face it, how easy is it to just pick up a cute top at Target when we're there every other week anyway? I live in their tank tops and flip flops in the spring and summer. Because they are fairly inexpensive, I don't feel that bad if they only last one or two seasons. And almost all of my maternity clothes were from Target.
Occasionally, if I want something more edgy, I'll pop into Arden B or Bebe. Macy's "Inc." and Michael Kors departments are nice too. Other clothing stores I like, but don't shop at much, are Anthropology and J Crew.
Thanks for having me Andrea!
************
Isn't that amazing!!?!! See I told you it was awesome! Thanks Megan for sharing with my readers today your awesome space!!
Besides being an absolutely gorgeous space, I really love that everything has a place in her closet. I dream of having a closet like that one day. Clothing, shoes, and bags all have a nice space and fit well.
Now, tell me what was your fave part?
Have a great weekend everyone, we're celebrating my birthday this weekend which is on Tuesday! Can't wait to have some family time celebrating!