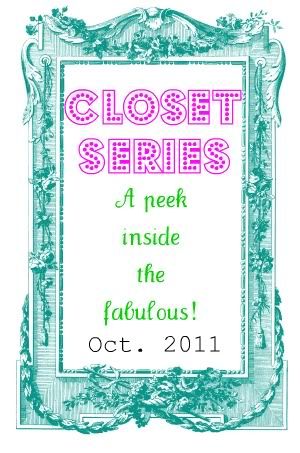 Hello Everyone
, welcome to October!! Can it seriously be October already?! I love this month, not only is my birthday this month but October screams Fall to me! The Fall is my fave season! I miss Fall a little more and more since Arizona doesn't really get a Fall. This time of year makes me miss Minneapolis, Fall there is beautiful!
Another thing, I'm excited about this month is our current series! Join me all month long for some exciting posts about closets!

Do you love looking at other people's closets? Celebrity closets?
Do you love seeing how others organize their closet spaces? OK, me too! So this month I've got some fabulous bloggers sharing their real life closets with us here on The Worley House! Here's a line up:
Aren't you excited?! I sure am! Plus, I'm going to be sharing with you before and afters of my own closet makeover! Come back Monday to see the before video tour of my closet! Then at the end of the month I'll reveal the after, and give you a chance to link up your own closet tours!
Don't have a closet? No, problem. Link up your kiddos, link up your pantry, link up your laundry closet or coat closet! Have fun with me!
Happy Fall Everyone! See you Monday for a tour!!
Scroll down for the giveaway from The Limited!!