I don't know why I haven't shared this recipe with you yet on the blog! It's easily one of our favorite meals and we have it usually a couple times per month! It's made entirely in the crock pot, which I love since I'm a working Momma anything I can make in my crock pot that is good, is a WIN for me!
This is a really easy meal, it serves a lot of people and it's always a home run for my family and friends!
Here's what you need: (feeds 4-5 people)
3 frozen chicken breasts
1 12 oz bag frozen corn
1 can black beans
1 can Rotel (tomatoes & green chilies)
1 taco seasoning packet
1 cup chicken stock
Directions:
Throw your frozen chicken breasts (yes, frozen) into the bottom of your crock pot, then add in your corn, black beans, rotel and taco seasoning on top. I don't drain anything I just throw it all in there. Stir together, then add your chicken stock just to keep it moist while cooking.
I usually do all this the night before and then turn it on before I leave for work in the morning. Turn it on low and let it cook for 8-10 hours. It's done by the time I get home from my work day. If you're home all day too you could still do the same thing.
When I get home, I take two forks and pull out all the chicken and shred it and then add it back into the crock pot to cook together for about 10-15 more minutes.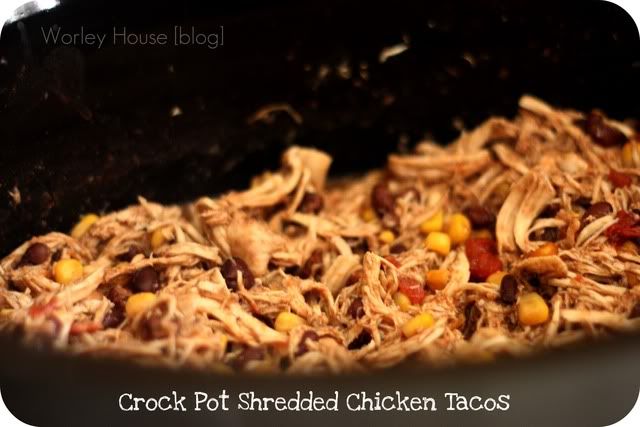 While that's going I get all my tortillas, and toppings together. I like to use corn tortillas and bake them in the oven but you could use any type of tortilla or taco shell you'd like. I top mine with cheese, lettuce, salsa and sour cream.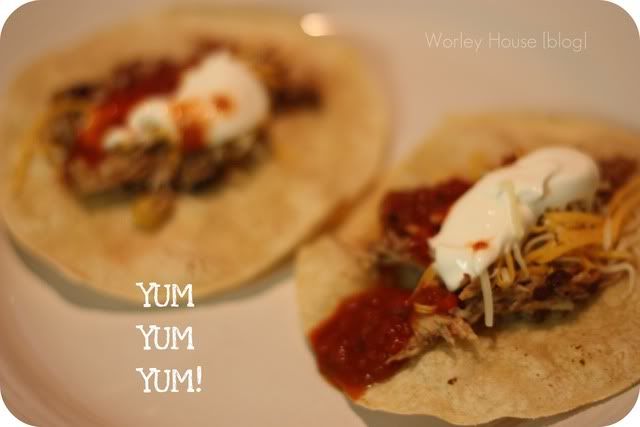 That's it! Eat and enjoy! For our family of three there's always left overs and they are great the next day for nachos, tacos again or even on a salad!
If you make this let me know your thoughts and if you love it as much as our family does!
Happy Friday!