It's no secret that this busy working Mama loves to cook! But, more so than anything I need options and things that are easy for me to fit into our lives. I love to cook, but if it's super complicated and requires things that aren't normally in my pantry then it's a no-go for this mama!
I went to Smart & Final to do my shopping, using their LaRomanella brand I searched all the wonderful options they had in the store before deciding on what to make for our meal. I decided that pasta was going to for sure be on the menu.

I was pleasantly surprised by all the Organic pasta options they had in the store all for under $2, that's a great price for a pound of pasta!
Although I am not Italian, I love a good amount of pasta and bread! We love a good spaghetti night in our home. I'm a really big fan of adding some fresh ingredients and spices into my store bought sauce and making it really yummy!
All my ingredients ready to go!
First I chopped up my onion and my LaRomanella roasted red peppers. I used 1 small onion and 1 red pepper.
Then I threw them in with the 1 pound of ground turkey, started browning it and stirred all the ingredients together till they were cooked through.
I added LaRomanella Garlic pasta sauce to my meat mixture and let it cook through.
While my turkey was browning, I started boiling my pasta noodles. I choose the LaRomanella Organic Penne Pasta and cooked them just under aldente.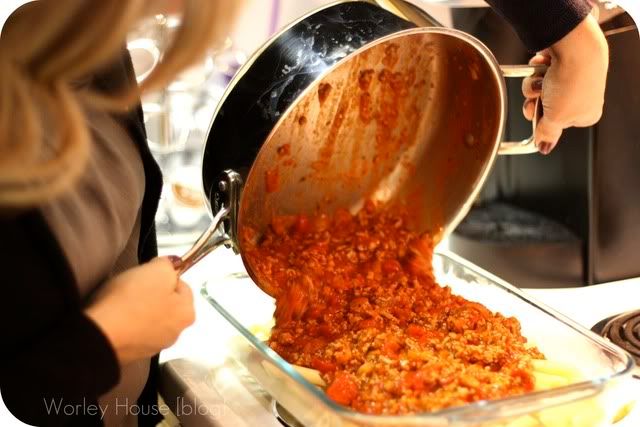 After it was cooked, I added the pasta to a 9x13 inch baking pan and poured the meat mixture over the top of my noodles.
Topped it with cheddar cheese, Parmesan cheese and mozzarella cheese, equal parts. And let it cook at 350 for 10-15 minutes or until cheese was melted.
I paired it with a simple spinach salad for my family's meal!
Here's what you'll need to make this:
1 lb. ground turkey
1 small onion
1 LaRomanella roasted red pepper
1 jar LaRomanella Garlic Pasta Sauce
1 lb. LaRomanella Penne Organic Pasta
Mozzarella, cheddar & Parmesan cheese
To see more of my shopping experience with Smart & Final visit my
Google+ page
here.
Smart & Final has some awesome promotions for you as well, if you purchase La Romanella items from Smart & Final, you can go to
www.smartandfinal.com/LaRomanella2012
enter the code on the receipt from their purchase of La Romanella products and be entered to win some of these amazing prizes (and let me tell you, I am *so* excited about the grand prize!): Grand Prize: Weekend trip for 2 to an Italian-inspired resort in Las Vegas (readers can enter by purchasing La Romanella products and entering code found on receipt) 8 $50 SmartCash cards (readers can enter by voting for their favorite La Romanella recipe each week) and (8) La Romanella Gift Baskets worth over $50 (2 per week given away)
Plus, visitors to the
www.smartandfinal.com/LaRomanella2012
site will be able to vote for their favorite La Romanella blogger recipe. The blogger recipe with the most votes each week will win a $100 SmartCash card, so make sure your followers head on over and vote for your recipe!
This project has been compensated as part of a social shopper insights study for
#collectivebias
#CBias All opinions are 100% my own. As always I do not endorse products professionally that I wouldn't personally.