I love anything Mexican/Santa Fe inspired in our home. Luckily for me my husband shares the same love for spicy food and chips and salsa as I do. We have dishes like this often in our home. I'm always trying to come up with new variations for our dinners of these flavors.
I headed to World Market because they always have a great selection of unique food items in this category. I love that they have many different salsas and chips to choose from like salt and lime flavored, and roasted tomato salsa which is a fave of mine. I even picked up a marinade to use on my chicken for this recipe.

They have a great selection of spices too. I love just looking at all the different things they have to offer from around the world. Many different flavors you can find here to make any meal really special. I picked up a few different hot sauces to try as well.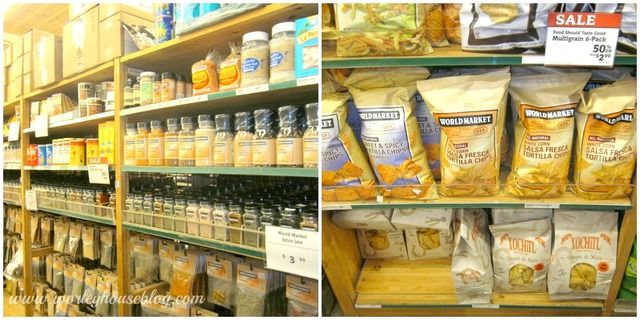 Then I headed over to the kitchen ware aisle. I could easily spend hours looking at this type of stuff. One thing that I really love about shopping at World Market is all the unique things they have from different patterns to textures. Also the price point is really great too, I never feel like anything is going to break my bank and I can trust that it's always going to be affordable for my budget.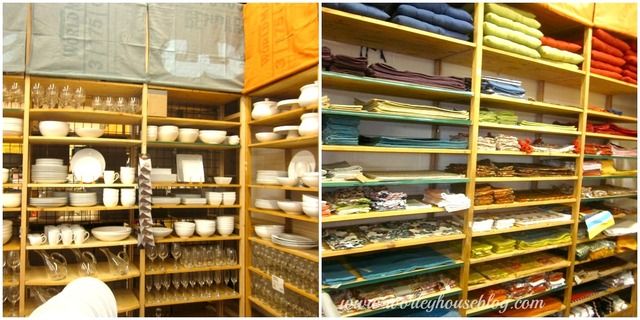 This is the marinade that I picked up at World Market to prep my chicken in before I coked it. I only used half the bottle.
Then I picked up these great moss green place mats to help set our table. I also picked up the grey cloth napkins too. I like using these just as much if not more than the paper ones. Don't be afraid to use cloth napkins. They aren't just for special occasions they can be for every day too and they wash clean so don't worry.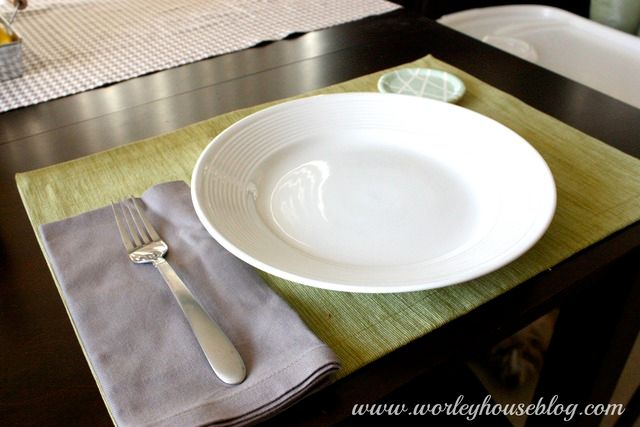 And to make the dinner even more special I picked up these cute little limonta drinks from World Market too. My hubby loved this touch to dinner. A fun special drink in a fun bottle always kicks it up a notch at dinner!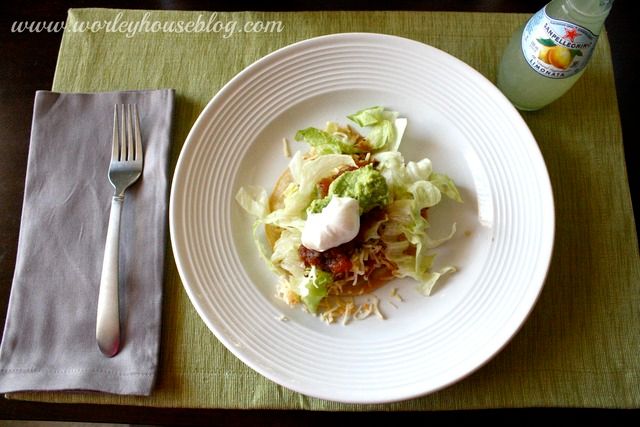 Santa Fe Puffy Tacos, these are open faced tacos you load up the toppings and eat! Want to enjoy these at home too? Adapted from
here
I found this on Pinterest but of coarse I didn't have all that it called for so I changed it up a bit. Click the link above to find the original one my version is below.
INGREDIENTS
¼ cup olive oil
1 rotisserie chicken shredded and marinated in BAJA Chipotle Lime Sauce from World Market
Kosher salt and freshly ground black pepper, to taste
6 cloves garlic, finely chopped
1 medium yellow onion, finely chopped
1 rib celery, finely chopped
1 small carrot, finely chopped
1 can of corn, drained
1 small red bell pepper, finely chopped
3 cups chicken stock
1 14-oz. can whole peeled tomatoes in juice, crushed by hand
2 avocados, pitted, peeled, and mashed
2 cloves garlic, minced
Juice of 1 lime
Canola oil, for frying
1 package corn tortillas
Shredded iceberg lettuce, diced tomato, and shredded cheddar cheese, salsa , sour cream to garnish


INSTRUCTIONS
1. Heat oil in an 8-qt. saucepan over medium-high heat. Add garlic, onion, celery, carrot, corn and bell pepper; cook, stirring, until soft, about 20 minutes. Add chicken. Add stock and tomatoes, bring to a boil. Reduce heat to medium-low; cook until chicken is very tender, allow this mixture to just sit and simmer while you prep the other ingrediants and set your table. Meanwhile, combine avocados, garlic, lime juice, and salt and pepper in a bowl; chill guacamole until ready to use, covering to avoid browning.




While mixture is still simmering fill a frying pan with oil enough to cover the bottom and consume your tortilla. Set to medium heat and begin frying your tortillas till they puff up. Remove from pan and put on a plate with a paper towel to drain excess grease off. Once they are all fried up take your chicken mixture and put it in a serving bowl. I drained off most of the juice and only added a bit towards the end to keep it moist.




Serve and plate your tacos. Side note: the mixture will have juice left over add the chicken that you don't eat back into the pot and use later as a Chicken Tortilla soup with a garnish of chips and sour cream. Yum!
World Market has an exciting Gourmet Getaway Sweepstakes going on right now, see below for details on how you can enter and win!
Gourmet Getaway Sweepstakes:
Grand Prize package includes:
A trip for two to to Santa Fe, New Mexico (this is a 5 day Trip for 2 to Santa Fe which includes airfare and hotel)

Hands on Southwestern Cooking class with Master Chef

Personally signed glossy cookbook

Multi-course

dinner at the acclaimed Geronimo

Southwestern Foodie Tour with a cultural kick

A $1,000 World Market gift card
** There will also be 3 runner up prize winners that will each receive a $500 World Market gift card!
**The Gourmet Getaway Sweepstakes runs from
August 18, 2012 until September 21, 2012.
**If you share the sweepstakes with 5 of your friends (via FB share or email) you can receive 5 additional bonus entries. This is part of the registration process when entering. Users can also enter daily for more chances to win.
To find out more about World Market visit these great sites to connect:
This shop is part of a social shopper marketing insight campaign with
Pollinate Media Group
™, I was excited to participate as a regular customer myself of World Market, all my opinions are my own.