The Holidays are upon us can you believe that Thanksgiving is just two days away! Today I'm excited to share with you a Holiday Hostess guide in partnership with one of my favorite stores World Market! World Market is easily one of my faves because of their wide range of selection anything from food to home decor and furniture. I'm always instantly inspired when I walk into the store, and can easily always find a few things "I just can't live without."
I was just in there a couple days ago and I'm loving all their new Christmas ornaments, table decor and even some new furniture pieces that I've got my eye on for the new casa!
Today, I put together a little holiday hostess gift guide. I think hostess gifts are such a nice gesture and a nice way to say thank you to any host. I think they are a lost art form actually and such a small gesture can go along way in making your host feel special. With the holidays quickly upon us I think it's so important to make these gestures for all those holiday parties, events and dinners you'll be attending.
We're spending Thanksgiving with some friends again this year, and I always like to bring our host something. They've opened their home to us, cooked an amazing meal and it's something I can easily do to say Thank you for all of that. Plus, I really love giving gifts, shopping for them and packaging them just so.
Hostess gifts don't have to be grand or expensive. You can do something small, write a little note with it and present it to your hosts. I personally don't like to bring flowers as a hostess gift. They are so pretty, but more often than not you give them to your host and she lays them down to finish preparing the meal or say hello to other guests and before the night is over they are wilted and dead. I like to give tangible gifts that they can open later and enjoy.
Today I've rounded up some lovely finds with the help of World Market that range in pricing from $2.50-$30. Perfect for any budget, c'mon let's see what I've found.
1.
Ikat Bowl Set
- I love these small bowls. They come in a set of two, perfect for holding jewelry or using as part of your home decor.
2.
Holiday House Kit
- This is a fun gift the whole family can enjoy putting together!
3.
6 Bud Vases in Holder
- I love this little bud vase caddy. So perfect and cute, would be fun in the kitchen with flowers.
4.
Good Morning Mug Set
- Who doesn't love a cute mug filled with hot cocoa?! These are adorable and say "good morning."
5.
Snowflake Cupcake Kit
- Another fun foodie item to give to a baker or to a family.
6.
Glass Pitcher
- I'm a firm believer that every woman should own a nice glass water pitcher for serving, and I love the shape of this one.
7.
White Glitter Trees
- the perfect holiday decor gift, white trees go with any decor and they have glitter on them, what could be better?!?
8.
Cute Napkins
- You can mix & match patterns so fun to give an assortment away to your host.
9.
Mason Jar Beverage Dispenser
- an adorable way to serve up that holiday punch!
What a fun round up right?! I'd gladly love to have any of these, wouldn't you? That's not all friends World Market has some great Black Friday deals going on for you right now to take advantage of, along with the Life of Pi Movie Sweepstakes. See below for your chance to enter and win!
Life of Pi is the story of an Indian boy named Pi, a zookeeper's son, who
survives a
disaster at sea and is thrown into an epic journey. While adrift in the middle of the Pacific Ocean, he forms an amazing and unexpected connection with another a
fearsome Bengal tiger
. The movie opens in theaters November 21, 2012. You can watch the trailer for Life of Pi here:
http://www.lifeofpimovie.com/#!/watch-trailer
The first 100 customers to shop in-store on 11/23(Black Friday) will receive a FREE Limited Edition Life of Pi ornament and a FREE Life of Pi movie ticket. The first 100 customers to shop in-store on Saturday, 11/24 & Sunday, 11/25 will receive a FREE Limited Edition Life of Pi Tote Bag and a movie ticket.
The Life of Pi Sweepstakes
Grand Prize package includes: a dream trip for 2 to India and a $1,000 World Market Gift card.

There will also be 3 runner up prize winners that will each receive a $500 World Market gift card!

The Life of Pi Sweepstakes runs from 11/17 - 12/28.

If you share the sweepstakes with 5 of your friends (via FB share or email) you can receive 5 additional bonus entries. This is part of the registration process when entering. Users can also enter daily for more chances to win.

Enter online at

http://worldmarketsweepstakes.com/

or

https://www.facebook.com/worldmarket?fref=ts
Do you want to be entered to WIN your very own Life of PI gift bag & limited edition ornament?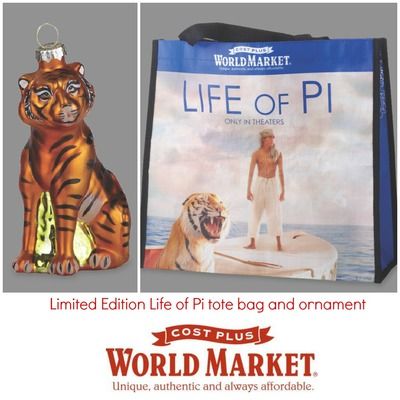 TWO Winners will be chosen to win each of the prizes above.
Please use the RaffleCopter below to enter: