I'm excited to finally share with you Zane's completed nursery! His room has been completed for the most part for a few months. There were just some finishing touches I wanted to add before I showed it to everyone. When we found out that we were having a boy I knew somehow I wanted to encorporate my Husband's love for the Oklahoma Sooners into our baby's room decor.
However, I didn't want it to be all football themed in every corner. I dreamed up a mood board of reds, creams and neutral colored walls with hints of red and football.
See the original mood board here.
I love how it turned out, I can't wait to take you on a tour! Let's go!
This is the view from the doorway. When we moved into our new home and finally got furniture in, the room ended up being to small to add the dresser I wanted. Instead we used the furniture that was in Ava's nursery. Someday we'll add the dresser when there's no longer a need for the changing table.
curtains & rug: Ikea
white furniture: Graco Lauren Edition Babies R Us
Paint color: Natural Linen by Glidden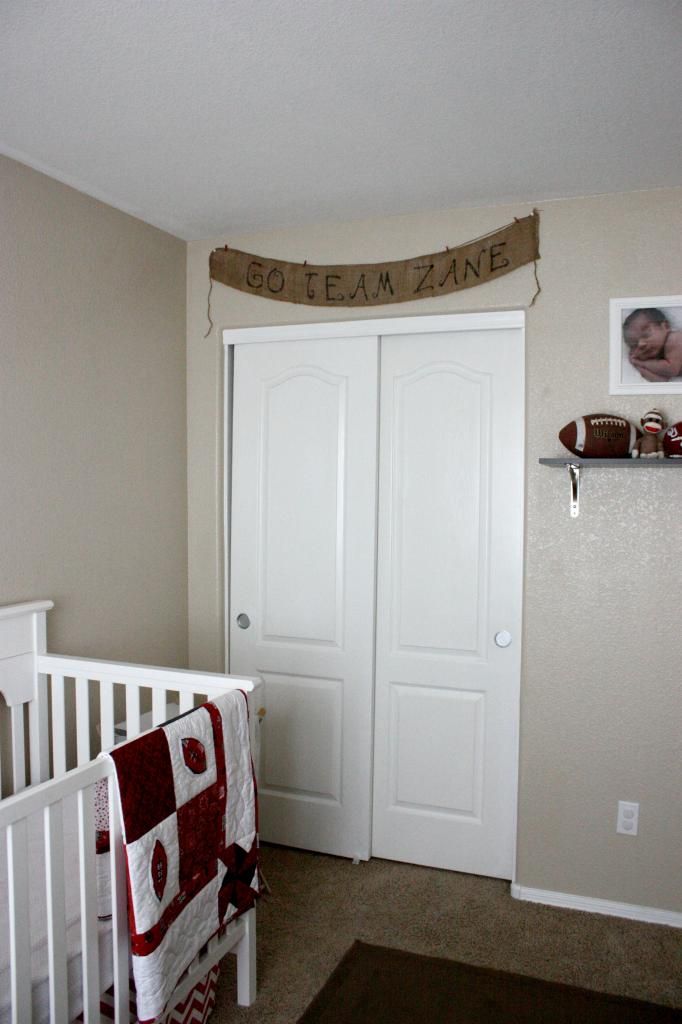 Above Zane's closet is a banner that was made by a friend and hung at my baby shower. I brought it home that day knew that I wanted to use it in his room. I decided to hang it above the closet, I love that it was handmade by a friend and is something personal in the nursery decor.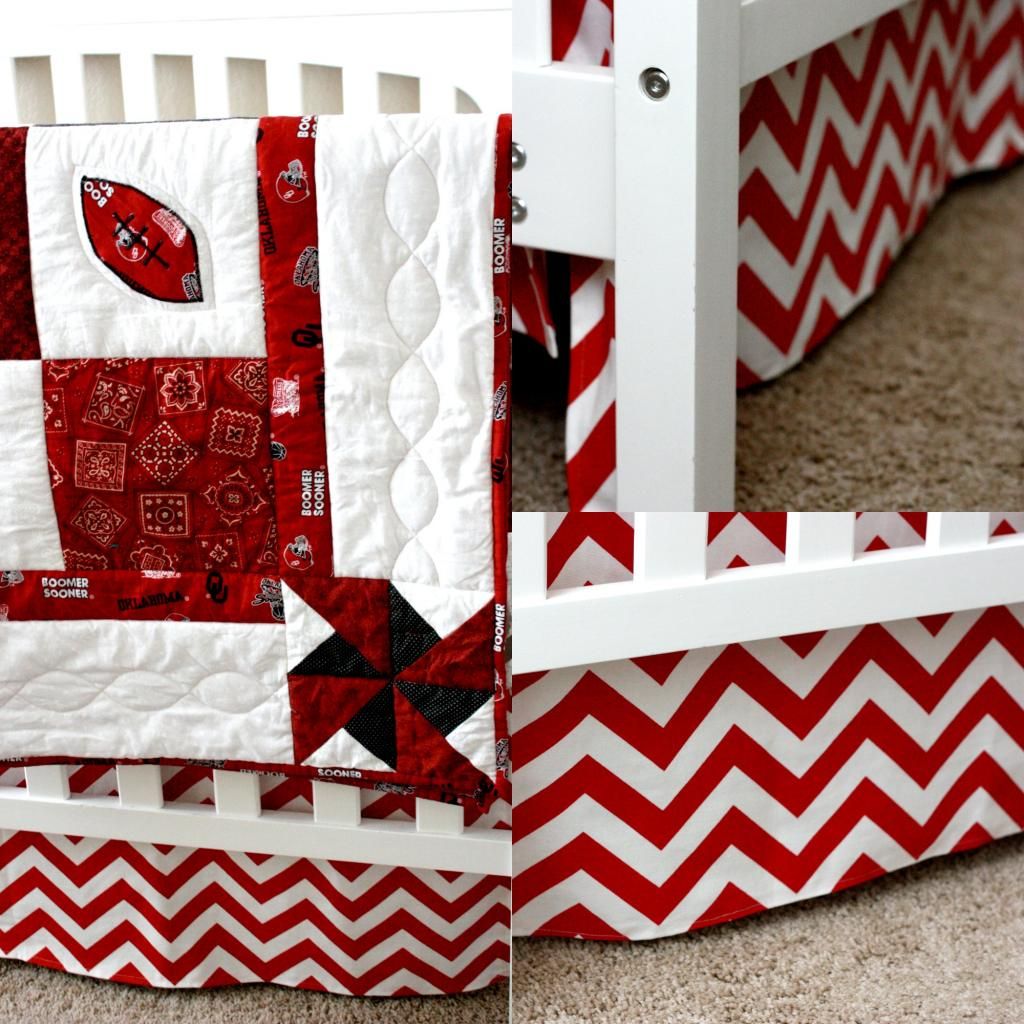 The crib skirt and the quilt are two of my faves of the whole room. They really are huge focal points and add so much to this room. The fabric was one of the first things I picked out for the room, I knew I wanted something red and you can't go wrong with chevron. The quilt was a gift from a former co worker who made this for me. I came into work one day to find it on my desk, it's such a beautiful piece to have in his room and a wonderful reminder of a great friendship.
The glider and ottoman are just on the opposite wall. I made the pillow with some of the leftover fabric I had on hand.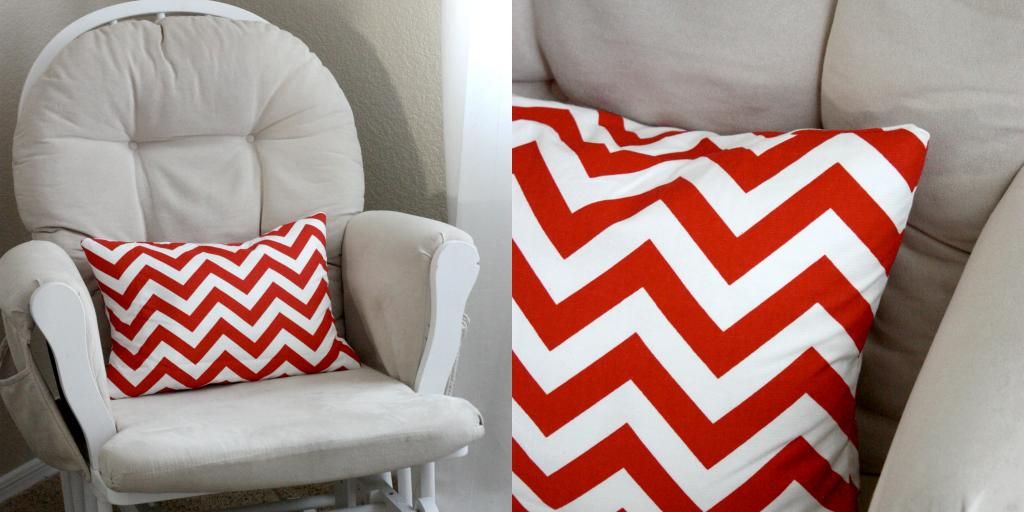 glider: Babies R US
pillow: made by me
red chevron fabric:
www.fabric.com
crib skirt: made by me
quilt: gift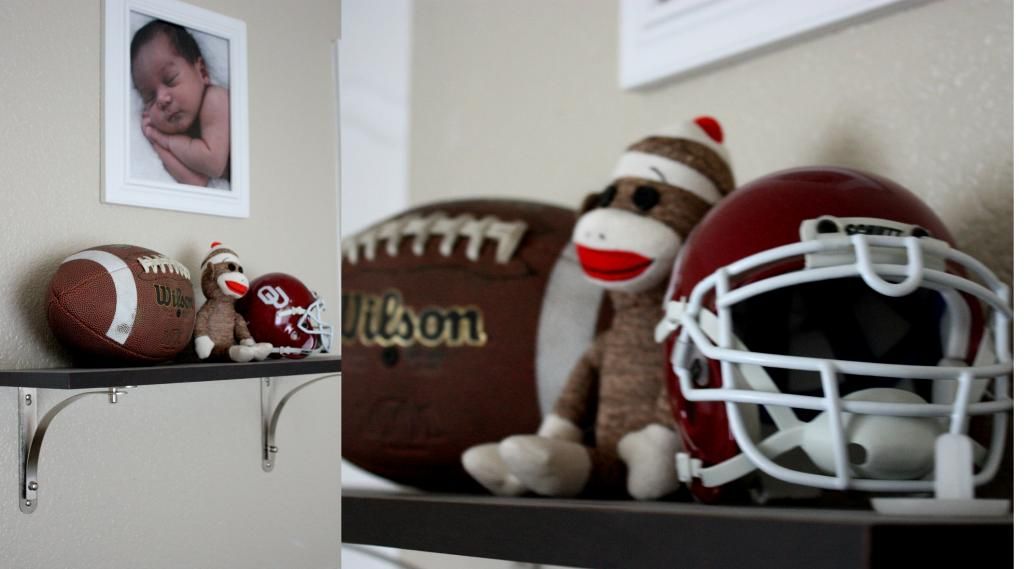 This little shelf is one of my faves in the room. Above it sits one of Zane's newborn photos that I took. One the shelf I placed a few of my Husband's personal football items. The mini helmet is my husband's that he's had forever that was just sitting in a box of personal items. It now sits on the shelf and had a permanent home.
shelf: Lowes
Sock monkey: gift
newborn photo: taken by me


I wanted to display some of the children's books we have, since Ava we've accumulated a ton of books. I wanted to display a few of them and create a little toy nook in the corner of the room. Ava was a little hesitant to "give" her brother some of "her" books but it was a good lesson in sharing. ;)
The shelves are just photo ledges from Ikea that we already had, they make great shelves for displaying books.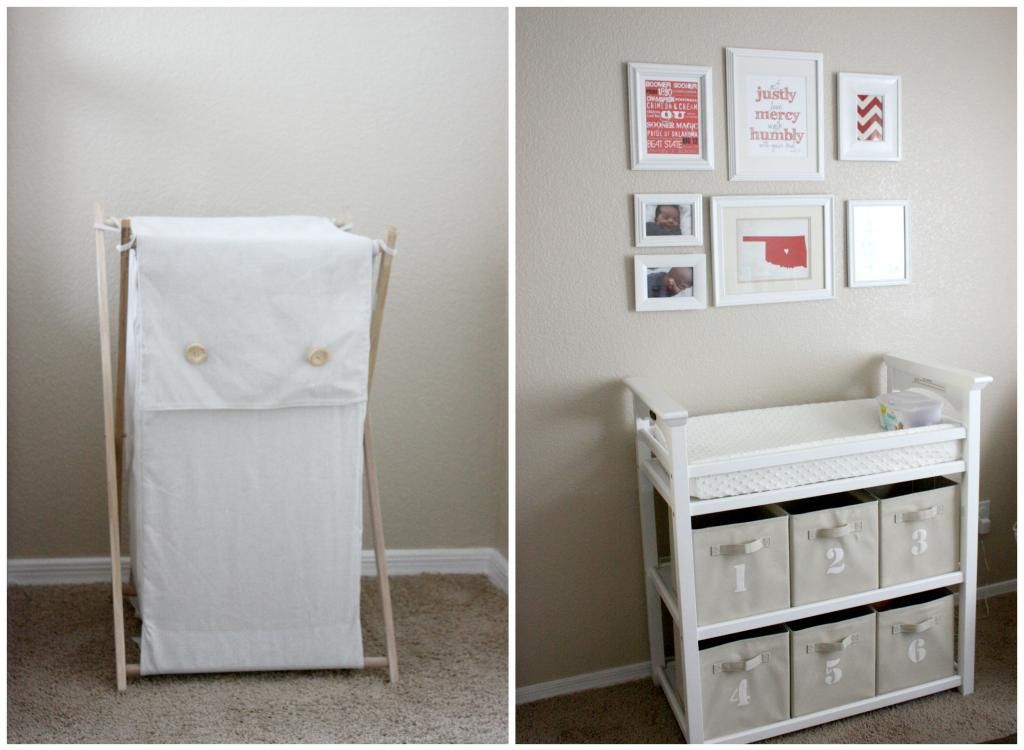 I shared with you already
the gallery wall
I put together for the room, I love how this came together. Below it sits the changing table and the
canvas bins I re did
. They hold all sorts of baby things in each bin. I love the idea of numbered bins, my interpretation of the numbers on a football field.
hamper: Babies R Us
changing pad: Babies R Us
Just a few more details of the room. The big "Z" was a paper mache letter from JoAnn's that I spray painted red and hung on the wall.
I had so much fun creating this nursery for our sweet little boy. I love seeing him in his room, and I love creating rooms for our little ones. I love everything about this room, but if I had to pick a favorite thing it would probably have to be the gallery wall. It was so fun collecting all those elements. Thank you for letting me take you on a little tour today.