Happy Friday Everyone!
A couple weekends ago Orion and I hosted a going away party for some of our friends who moved from Arizona to Wisconsin last weekend. Although we were sad to see them leave, we wanted to send them out in style, and let them know they are loved!
I thought I'd share with you some of the party details. It was so hot out that day, and the sun was for sure bright! I just love all the fresh and bright colors from this party.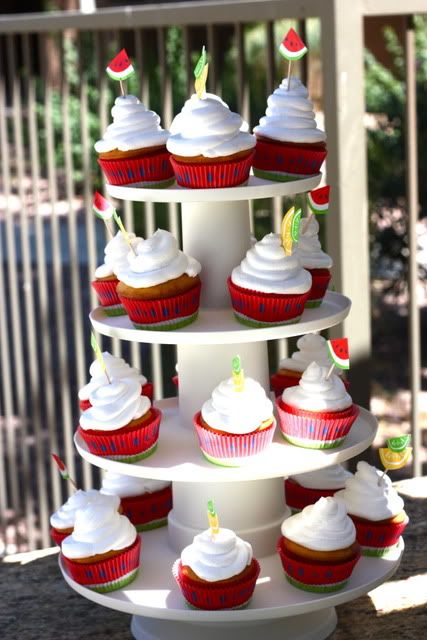 I made cupcakes with these adorable liners and toppers I found for 50% off at JoAnns. Watermelon screams summer to me!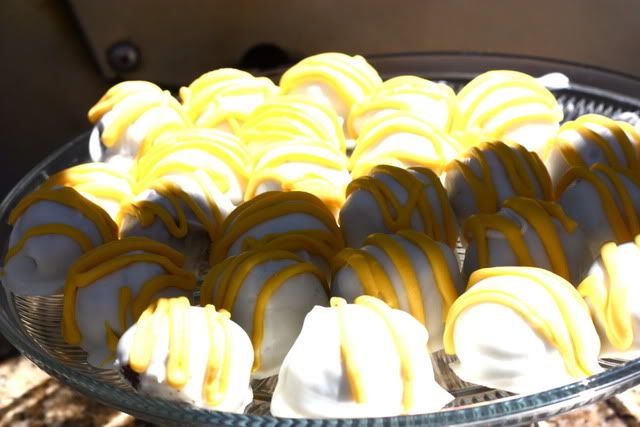 Devils Food cake balls, with a splash of yellow! The cake pops are
Bakerella's
recipe, with yellow candy melts pipped on top. Easy way of doing this if you don't have frosting bags to pipe, use a Ziploc bag and fill it with your melted candy melts, and then snip a small corner of the bag off to pipe onto the cake balls. Note; candy melts not almond bark are best for these. They aren't the same thing, candy melts give you a smoother finish and doesn't clump.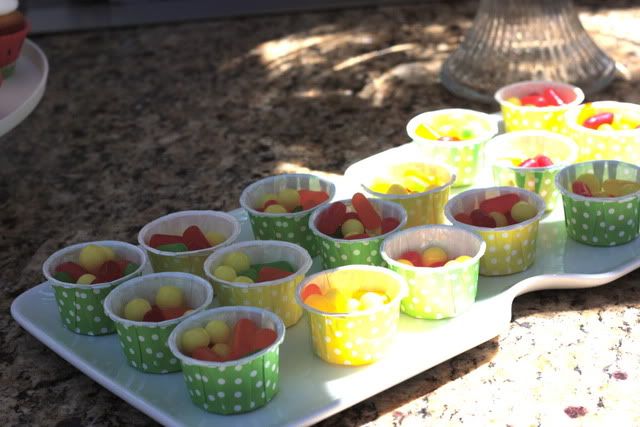 Little cups filled with Mike & Ikes and Lemon heads, I like to call these
"candy shots!"
These were a big hit not only with kids but the adults too!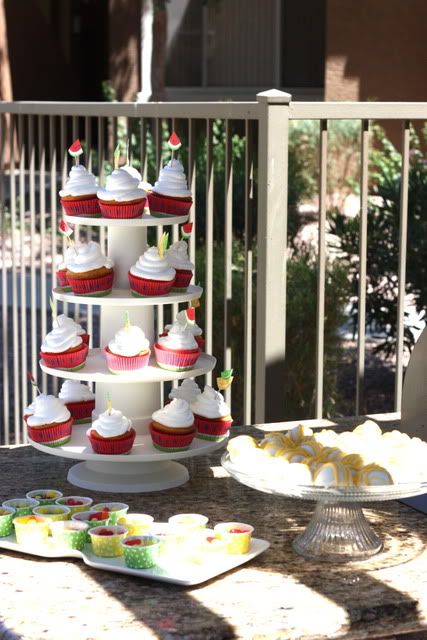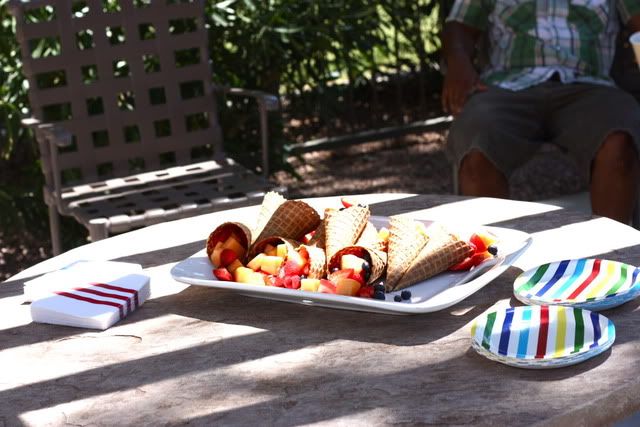 All the plates, cups, napkins and decor came from Target's 75% off summer sale. I picked it all up for under $5!
I saw this idea on
Pinterest
a few weeks back and just knew it would be perfect for our next party, as a way to display and eat fruit!
Mason Jar beverage dispenser is from World Market, and the cups again from Target. The punch was a simple mixture of equal parts lemonade and ginger ale mixed together. Throw in a few slices of lemon and your instantly fancy!
Couple questions arose about the cupcakes, and I'll answer them here.
Most of the time for parties I make cupcakes from a box mix, as were these. They are Better Crocker Super Moist mix. I always up the oil to 1/4 cup to make them extra moist and good. You could also use apple sauce if you'd like to cut the fat content and still make them super moist. The frosting is vanilla whipped marsh mellow from the grocery store. My friend
Destiny
always uses this stuff, and this was the first time I tried it out, and it's easy and awesome and gets wonderful height on those cupcakes. Go to your grocery store bakery and ask them for a pint of their whipped cream frosting they use for cakes. I know Wal-Mart and Frys/Kroger already has this out and ready for you to buy but if your grocery store doesn't just go to the bakery and tell them you'd like to buy a pint of the whipped cream frosting they use on cakes. They will sell you some. Then put it in a frosting bag, or again a large Ziploc and snip the end and pipe away. Your friends and party goers will all thing you're very fancy and talented, and you ARE!
{I hope that answers some questions, if you have any more ask away or email me at
andreaworley@live.com
}
The party turned out nicely, and we were able to spend some time with our friends letting them know just how much we love them, and how we're sad they are moving away from us! ;)
Linking up with these ladies this week:
Pity Party
, Sundae Scoop,
Weekend Wrap Up Party
, DIY Show Off Project Parade, Tuesday's Treasure, One Project at A Time, Tuesday's To-Do, Get Your Craft On. Pinterest Challenge