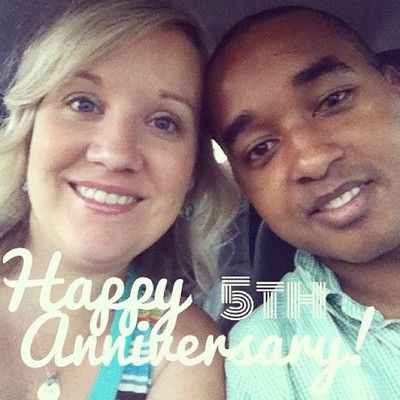 Last weekend we celebrated our 5 year wedding anniversary! Five is a good number, it's actually my favorite number too. Did you know that Orion and I are five years apart in age? It's true, he's old. I'm young. Just kidding ;)
Five years doesn't seem like that long of an amount of time, but it's long enough to have learned a lot about each other and set some really good foundations in your marriage. Did you know that most marriages end in divorce before the couple has reached their five year anniversary?
We are not by any means perfect, we have learned a lot through trial and error, hurt feelings, and mistakes. We have good days and bad days just like any other couple. As I was thinking and reflecting the other day on these last five years it got me thinking about all the things we've learned. What I've learned about myself, and how it all has made us better.
I thought I'd share with you today; 5 Things I've learned after 5 Years of Marriage.
Speak Well::
Speak well of each other in public and in private. The biggest thing I've learned is to speak well of my husband to others. In conversations that is not the time to give a run down list of his failures and mistakes. This is the time to build him up, be his biggest cheerleader and best support system. Speak life into your marriage by speaking well about each other in public to others.
Have boundaries::
It's important early on to establish important boundaries in your marriage. Specifically when it comes to what you will and won't share with others. I've made the mistake of sharing certain details of a fight once with my close family, the end result wasn't good for the image I gave of my Husband to others (speak well of each other, see?) in the end I learned it's important to have boundaries established on what you will and won't speak of, and how you will protect each other. I'm not saying you can't ever share things with close family and friends. You need someone to vent to sometimes, but you also need to protect your marriage as well. Everyone doesn't need to know everything. And the best person to vent to, is the Lord. He will give you the right guidance when you need it, and He will give you the answers when you pray. There are certain things we've decided that we will not talk about with friends or family. Those things are reserved for our conversations only, and with the Lord.
Communi
cate::

You'd think this goes without saying, but you'd be surprised to probably find out a lot of married couples don't communicate regularly. With busy lives, children, school, and whatever else you'd like to add to your list life can get pretty hectic and it can be really easy to neglect this area of your lives together. One practical thing we do to help communication is once a week, usually on Sunday night we'll go over the week ahead together. We'll pull out our calendar and talk about upcoming appointments, important dates, bills to pay, his school schedule and whatever else we can think of to go over so that we're both on the same page for the coming week. It really helps us to keep on track and gives us opportunity to talk about other things that come up as result of that conversation. In general; always been honest and come to your spouse the moment you are thinking of things, or have an issue to discuss. Don't lie, don't let it fester and build up nothing good comes from those things.
Date Night::

When Orion and I were first married we had a regular weekly date night we did this for almost three years until Ava came along. Then we had to get more creative in our planning and being intentional about this. I encourage you to regularly plan a date night with your spouse, maybe for whatever reasons it can't be weekly but maybe it can be bi-weekly or monthly. Just get it on the calendar, stick to and let nothing come between you and date night. For us, we can't weekly get away always due to lack of baby sitters and help mostly. So we plan around it. Weekly every Friday we have movie night together. We put Ava to bed, and we rent movies. It's our carved out time together. We try to get out of the house and go a date every couple months but the point is for us; we're carving out and setting aside intentional time together. To talk, to laugh and to have fun together. This is what's important.
Have a regular bed time together:: This might sound silly but I know how easily it can be to get into these habits and routines where one or the other of you stays up way to late and the other is always going to bed alone. Having a regular bed time and going to bed at the same time together creates another form of intimacy and security together. I mean who wants to sleep alone? Right? Going to bed at the same time ensures those things will continue, and may provide a way for the "magic" to keep happening in your marriage.