My husband has been begging me for weeks to make him Grandma's apple pie. I finally am starting to get some energy back and decided this weekend was the perfect weekend to whip up this pie from scratch! Friday after Ava's nap time we finished the pie. I started on the crust while she was napping, and then we finished the filling together. This pie is so good, it was gone in 3 days time. Here's the recipe so you can make this at your house and please all the members of your family too!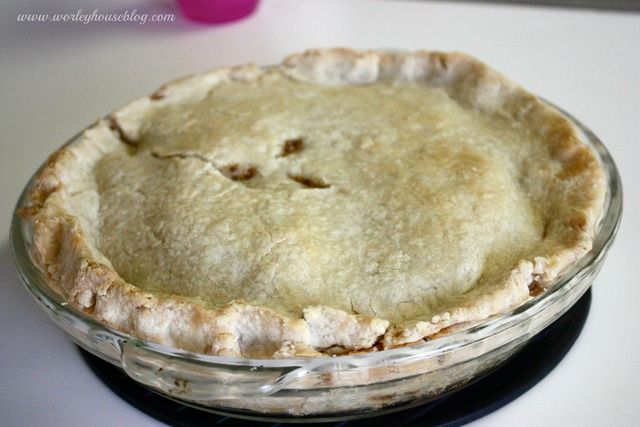 Grandma's Apple Pie
Pie Crust:
4 cups flour
1 tablespoon sugar
1 1/2 teaspoon salt
1 1/2 cups Crisco
1 egg
1 tablespoon vinegar
1/2 cup water
In a large bowl sift flour, sugar and salt together. With a pastry blender or two knives cut in the lard until mixture resembles coarse crumbles. Mix together egg, vinegar and water. Add to flour mixture. Mix until dough is moistened enough so it holds together when it is formed into a ball. Wrap in plastic wrap and refrigerate for at least 30 minutes. Split the dough in half and On a floured surface roll the dough into two 12 inch circles. Fit one into a 12 inch pie plate. Wait to fill the pie with the filling then add the other and Crimp edges to form a decorative border, prick the pastry with a fork. Place the crust in the freezer while preparing the pie filling.
Apple Pie Filling:
3 cups pared, cored and sliced apples (I love Granny Smith)
1/2 teaspoon cinnamon
1 cup sugar
2 tablespoons butter
3 tablespoons flour
3 tablespoons milk
Preheat oven to 375 degrees. Mix apples, flour, sugar and spices together and stir gently. Place mixture in unbaked shell. Dab with putter and pour milk over the apple mixture. Place crust on top. Bake 45 minutes. Filling makes 1 pie.
Yum!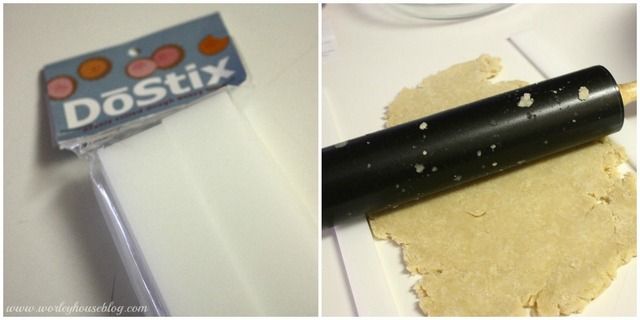 Now for a fun giveaway for you! I would love to introduce to you a great product for all you bakers out there. DoStix is a great new product to help you roll even dough every time for cookies, pies and all your baking needs! I was so excited to try out this product while making this pie. DoStix come with three different sticks for three different thicknesses, you choose how thick you want and need your dough to be. Roll it out evenly every time! For more info visit
their website here.
Wanna win a set of your own? Good, I though so too. Use the lovely widget below to enter to win your own set of DoStix! This giveaway will run from now until Friday. Winner will be announced and contacted Friday morning! Good luck, happy baking!
*winner has been notified, thanks to all who entered!*