We can't have a blog contest with out talking about how much I love blogs & coffee, put them together you've got yourself a fun filled afternoon, a good time waster, and a little joy! As evidence of
this lovely print
I bought a while ago for my someday office/craft room/Mom Cave!
Um, I love it a little to much! The smell and the taste mostly. My Hubby knows me well and bought me
this
for Christmas now I can have even more fun at home.
Coffee brings people together! It's a cheap date with your Husband, it's a good excuse to get together with the girls!
Two things *IHeart* among the list of many are blogs & coffee! Since I can't give you a blog, while although I encourage starting a blog as one of the things that should be on every one's bucket list, I can give you coffee!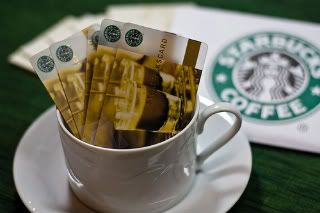 Starbucks, she's my favorite! And while although I don't really spend a whole lot of time or money these days there I really, really enjoy when people give me Starbucks gift cards! I also buy Starbucks for my Keurig and enjoy it oh so much!
One lucky winner will receive a $10 Starbucks gift card!