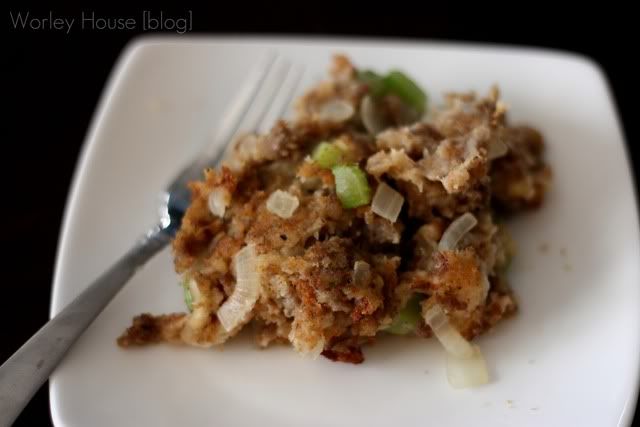 I didn't cook at all for Thanksgiving, since we went to a friend's house for dinner. But, a couple days after Thanksgiving my Husband requested that I make my stuffing recipe. I had most of the ingredients on hand, but quickly ran to the store to get the rest. I make it now from memory, so I had to stop myself to write down all the measurements to share with you.
It's the best, hands down! We love it so much in our home, it's the perfect "comfort" food I thought I needed to share it with you too!
1 lb. pork sausage
1 yellow onion chopped
4 stalks of celery chopped
2 cans chicken stock
1 bag Pepper ridge Farm Seasoned Stuffing
Brown the sausage in a large stock pan, adding the onion and celery as well. Stir until meat is completely browned and done. Next add in the chicken stock and stir ingredients. Add pepper to taste, I don't add any salt since the sausage already is salty enough.
Next stir in your Pepper ridge Farm bread crumbs till they are evenly coated with the liquid mixture. Spread into a 9x12 baking dish, cook at 350 degrees for 30-45 minutes. Top should be slightly brown and crispy.
Take out, and serve.
That's it, so simple and good! You'll probably want to make this any time of the year, it's
that good
.
psst....want more cooking today? I'm sharing one of my fave cookie recipes today over at
The Small Things Blog
with Kate!
Check it out here.