My husband is a huge college football fan! Our Saturdays during college football season are spent watching his favorite team the Oklahoma Sooners! While we were dating I knew about his love for college football and everything Oklahoma but it wasn't until we were married that I truly saw his passion for the team shine through. Let's just say he's a BIG fan!
A couple years ago they plated in the Fiesta Bowl here in Phoenix and he was able to go watch with some friends. In just a couple weeks I'll send him on air plane to go watch the team live again. He's excited!
A couple months ago my Mom sent us this Game Day pasta in the shapes of the team logo & mascot. I thought it was so cute I had to make it one of these Saturdays for game day. The pasta is from a website called The Pasta Shoppe (
www.pastashoppe.com
) if you'd like to order your team's as well.
I cooked it according to the package directions, they also have a vinaigrette mix recipe that I mixed up as well according to the directions.
There's so many variations of pasta salad you can do I added in 3 stalks of celery, 1 carrot, 2 tomatoes, and 1 small onion and a handful of blue cheese and pepperoni into the salad before tossing with the sauce.
Toss with the sauce mixture and then plate it up for your guests to eat! Hubby loved it, and I'd say I should get wife of the year, don't you think?!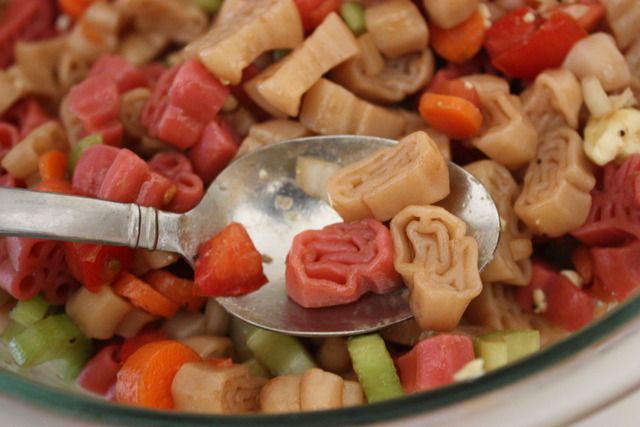 Love the "OU" shapes!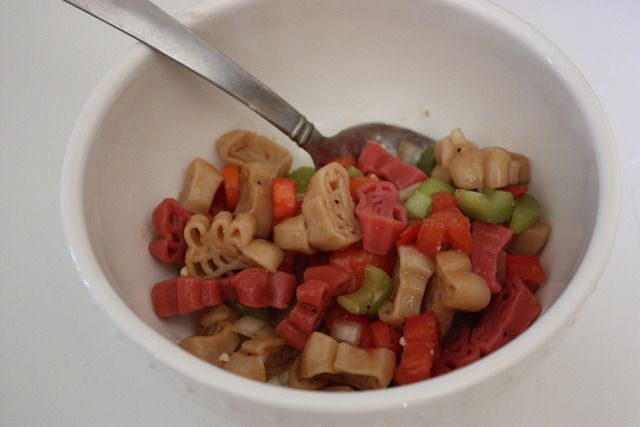 I think this is such a festive and fun idea for any college game day. Linking with Mom Endeavors Tailgating Saturday, go check it out and get other game day inspired treats.