I've been dreaming of a master bedroom makeover for a while now. My biggest issue with decorating is being indecisive about things. I've changed my bedroom bedding about three times now in the last five years, but now I feel like I have a good idea of what I like and don't want for our space. We got brand new bedding at the beginning of this year which I really love, and slowly started putting some things together.
This room is in desperate need of paint, some window coverings and some awesome accessories. It's a blank slate, and it's become kinda of dumping ground for a lot of what we don't know what to do with since we live in such a small space. I'm excited to do a makeover on this room once we're in a bigger space and get our master bedroom back to the sanctuary status it needs to have.
Here's a few pictures of how the room currently looks right now;
The bedding is from Target, and I love it we bought it earlier this year. It will stay.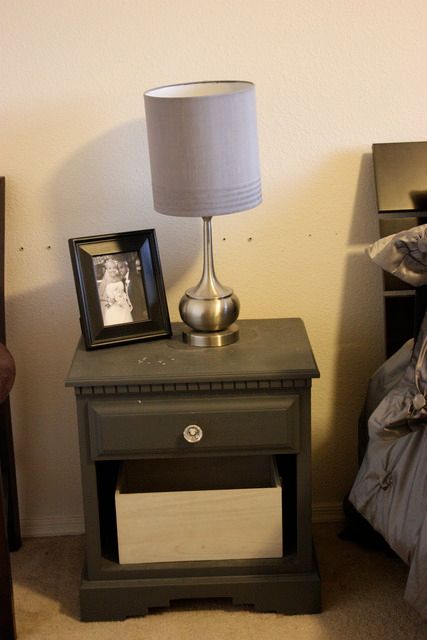 The night stands they are one of my favorite things about the room, we re finished them a while back. You can
read more about them here.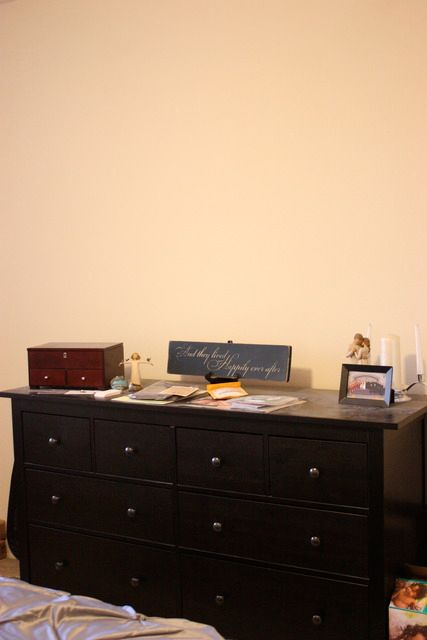 Our dresser is from Ikea and we've had it since we were married. Let's just get real it needs to be organized this entire area! All of this will stay in the room, but I'm dying to add some new pieces to spruce up this space.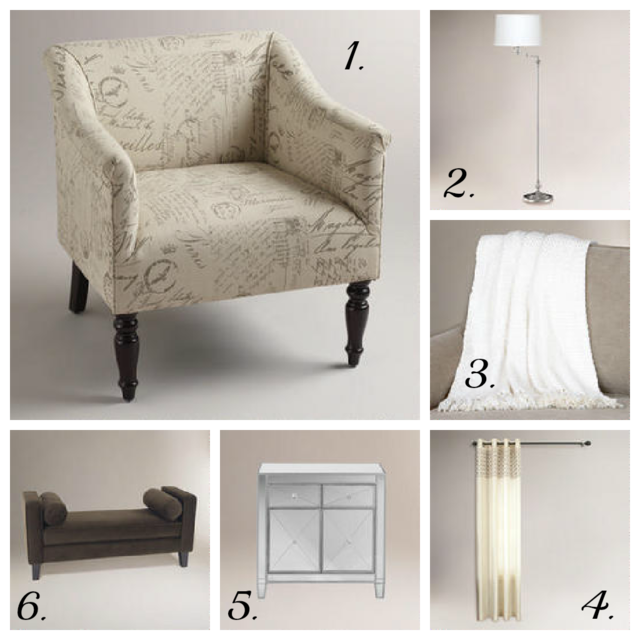 I'd love to do a little sitting area in our room with this awesome chair and reading lamp. I also want to add a bench at the foot of the bed for getting ready in the mornings and just because I love the look of it too! And remember those window coverings I mentioned? Yes, I love these shimmery Champagne curtains as well. I think they'll help brighten up the space a bit too since our bedding and a lot of other things are grey and black.
I can't wait to get some paint on the walls and finally finish this room. It's going to be one of the first things on my list in the new house.
Are you dreaming of a room/home makeover too? World Market has a special sweepstakes going on right now, check it out:
HGTV Passport to Style Sweepstakes
Grand Prize package includes: A $10,000 World Market shopping spree and design consultation with an HGTV Designer

There will also be 3 runner up prize winners that will each receive a $1,000 World Market gift card!

The HGTV Sweepstakes runs from

September 22, 2012 until October 26, 2012.

If you share the sweepstakes with 5 of your friends (via FB share or email) you can receive 5 additional bonus entries. This is part of the registration process when entering. Users can also enter daily for more chances to win.

Enter online at

http://worldmarketsweepstakes.com/

or

Enter On Facebook
I would also encourage you to join the World Market Explorer program and sign up to receive great rewards, promos and coupons.
This is a customer rewards program where member earn exclusive perks, like coupons, offers, previews, and beyond. Spend $100 on Gourmet Foods and Non-alcoholic beverages and you will receive a $10 reward that you can use to purchasing almost anything in store or online. You can also earn FREE COFFEE Rewards! (Buy 6 12oz. bags and your 7th one is free!)
Often times I save even more by combining these coupons with their sales.
To find out more about World Market please visit their links below and get connected with this great company that offers affordable style on favorites for your home and lifestyle.
This shop is part of a social shopper marketing insight campaign with
Pollinate Media Group
™, but all my opinions are my own. I only recommend products, services or goods that I think are a great fit for my blog and readers.