They say that love is in the details. I love finding ways to make things special and go that little extra bit to make someone feel loved. For Ava's birthday it's all about special little touches to make a big impact at her first birthday. A milestone we'll remember forever! I've been busy planning her party for weeks now, my bedroom is slowly filling up with party supplies, and my brain is on party overload. But, I'm so excited for her special day I can hardly stand it!
I thought I'd show you another little detail for her party, I picked up some ribbon from the Dollar Store for her party. By the way, the dollar store is your spot for cheap party stuff, and DIY stuff. It may deserve its own post all together. But that's for another time.
I picked up four coordinating colors that matched the pink and lime green colors in her invitation. I had these left over vases from our wedding that I've held onto and used for lots of occasions. This time I was going to use them for holding some candy for the dessert table.
I measured and cut the ribbon to fit around the vases in all four colors.
Then I used double sided tape and fixed them onto the glass vases. Here's what they look like: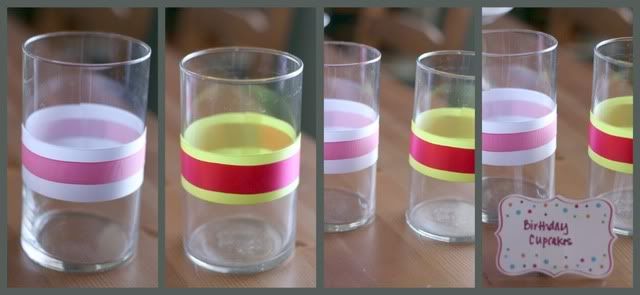 Simple and easy party additions you can customize for any party that you're having for any holiday too. Just get ribbon to match your event and you're done.
Linking Up with these Ladies:
border="0" href="http://tatertotsandjello.blogspot.com/"
target="_blank">
src="http://hadfield.smugmug.com/photos/978446890_7b2ZN-O.png"