I
feel like we've been going non stop since we got back from our trip in Iowa. We have. I just finished getting that trips photos off my camera so they are patiently waiting in my iphoto album just waiting for me to take a look at them edit, and organize them. To post for friends and family to see.
Right after we got back Orion headed into his last week of work at the bank. We attended a birthday party for a sweet little girl that following weekend.
Orion started his new job the following week, and it's been non stop crazy since. So I'm finally getting around to posting and talking and sharing about what we've been up to.
First up, a sweet girl's first birthday party! Meet Alivya, she's Ava's "friend."
Her Mommy
and I became friends first. Yes we met through our blogs, yes they live here in Arizona (lucky me) and yes it's possible to find sweet and loving people and befriend them via the Internet. Go read her
Mommy's blog
she's awesome, you'll fall in love with her blog.
Ok, back to the girl............
Sweet Cherry on Top 1st Birthday themed party.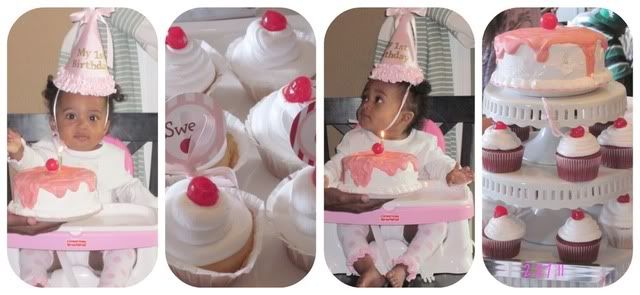 Aren't those desserts amazing!! Yes, Destiny made them all herself and I will tell you they taste as good as they look!
My sweet family at the party;
It was so fun to spend the day celebrating with friends for such a special occasion! Happy Birthday Alivya!
Last weekend my friend Meliessa invited me to paint pottery with her. Orion and I did this for our anniversary last summer so I was super excited to go and do it again. I feel like it's so relaxing sitting there creating something and spending the time with a friend. So, thank you Me' for inviting me! I can't wait to get my awesome pink & black zebra printed mug in a few days!
So that's what I've been up to these last few weeks. I'll get our Iowa pictures up soon, they are just to fun not to share!