W
e've been eating a lot of fish in our home these days mostly salmon and talapia. I've been finding a few great recipes that I wanted to share with you. This one has become one of my faves, I've made it about 4 times now. It's always a pleaser, and tastes really good. I thought I'd share it with you. This recipe is from
Real Simple magazine
, I clipped it out along time ago and saved it in my recipe binder that I keep in my kitchen.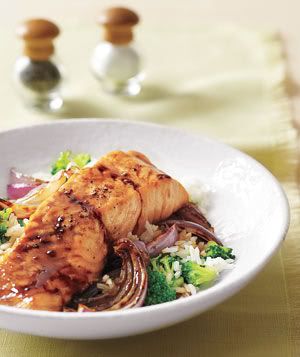 Here's the recipe straight from the mag, (
my additions in red
) I've made this just for Orion and I with 2 salmon fillets, and cut the broccoli in half but used all the other same measurements.
Serves 4
Hands-On Time: 20m
Total Time: 30m
Ingredients
1/4 cup brown sugar
2 tablespoons low-sodium soy sauce
1 cup long-grain white rice
(I've always made this w/instant white rice, and it's just as good)
1 head broccoli, florets only, chopped (about 2 cups)
4 pieces skinless salmon fillet (1 1/4 pounds total)
1 large red onion, cut into 1/4-inch-thick wedges
1 tablespoon olive oil
kosher salt and black pepper
Directions
1. Heat broiler. In a small bowl, combine the sugar and soy sauce. Set aside.
2. Cook the rice according to the package directions, stirring in the broccoli during the last 3 minutes.
3. Let the rice and broccoli stand off the heat until the broccoli is tender, about 5 minutes. Fluff with a fork.
4. Meanwhile, place the salmon and onion on a rimmed baking sheet. Drizzle with the oil and season with ½ teaspoon salt and ¼ teaspoon pepper.
5. Broil until the salmon is opaque throughout, 8 to 10 minutes, spooning half the soy sauce glaze over the fish during the last 2 minutes of cooking.
(I would watch this closely, because the glaze tends to cook really fast and sometimes can burn to the pan, I usually cook it only 8 min, and check to see if it's done.)
6. Serve the salmon and onion with the rice and the remaining glaze.

YUM! Delish!! If I wasn't out of salmon right now I'm sure we'd be having this again for dinner!