T
oday is my Mother's Birthday! I hate you break it to you all but I HAVE thee best Mom in the entire world! She truly is the best! I wouldn't be the person I am today with out here. My Mom's birthday falls during Mother's Day weekend every year and every year we get to celebrate her twice! As I think and reflect on who she is not only as a Mom and Mother I get overwhelmed most of the time thinking about how selfless she is.
One of the greatest things she taught me what how to love others, care about them, and be completely selfless. She loves deeply and cares deeply for people. It's a quality I admire most about her. She's one of the hardest working people I've ever known and goes after her dreams too. She's given me the confidence over the years to try new things and "go for it!"
She makes me laugh like no one else, I think fondly of different memories through out the years where she has made life such a joy to live with her. I probably could go on and on all day long about the most amazing things about her, but the things I love the most about her are the little ways she loves me.
The trips to Sonic and Subway. The shopping trips. The vacation memories. The nights around the dinner table where we all laughed till it hurt. The way she's my biggest fan and has always cheered me on. The way she picks out the perfect and best cards for any occasion.
The way she loves my daughter. I love seeing them together. I love seeing my Mom as a Grandma to my own child.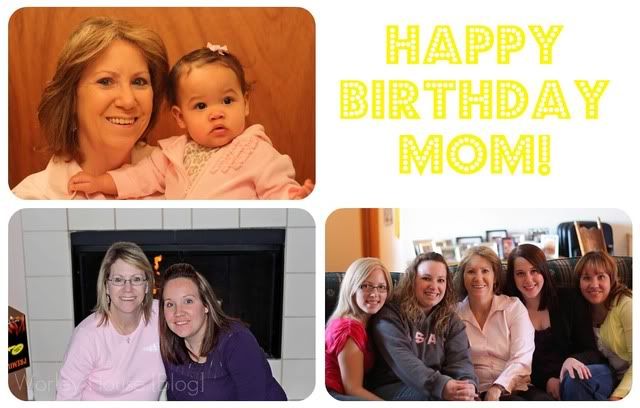 (pictured: Ava & my Mom, Me & My Mom, my SIL Jessie, my Sister Larrah, Mom, my future SIL Jordan and Me.)
Happy Birthday Mom! I love you more than I can ever express, more than you probably know. Thank you for loving me so much, I couldn't have asked for a more kind, gentle, caring, funny, love able Mom! We love you so much and miss you!
Love,
Andrea, Orion and Ava xoxo