Yes, I know it's Friday and not Monday. But, I kinda fell off the wagon this week with my Blog Roll Monday post and I really wanted to share with you one of my fave blogs that I've been reading lately. It was to good not to share and wait till next week, so here we are.
I've been reading a blog by Kelle Hampton called 'Enjoying the Small Things' for a couple weeks now, ever since Mrs. B introduced it to me a couple weeks ago.
The first time I read her blog, I cried and cried my eyes out. Happy tears, inspiring tears and couldn't wait to read more. I admit it, it took me about 3 days to read 3 years of posts. I couldn't stop reading, I wanted to get the back story of this woman and her blog. So I soaked up every last page of this blog into the wee hours of the morning, I left my computer on so I wouldn't loose my place in the pages of her blog. I told my Hubby he couldn't deviate from her blog, he had to open a new window when we was on my computer.
I finally finished. And, now I read her blog on a regular basis.
Kelle Hampton is a wife, mother and blogger. Her story is an amazing one, that deserves to be re told and shared over and over again.
I'm truly touched and inspired by her honestly, her wit, her writing, photography and the way she shares her world with others. She's an amazing writer too. That's probably why I end up in tears by the end of each post. My eyes, cheeks and keyboard are all soaked with tears by the end. You might think I am crazy by saying this but it's true. I haven't been this inspired and touched by something I've read in a long time and that's why I keep coming back for more.
She's also introduced me to some fantastic music via her player at the bottom that I probably wouldn't have picked on my own. But, love listening to her player more than surfing through itunes.
She said this today on her blog:
"If your first name is common, and your last name defines you, then what lies in the middle, is the mystery of who you are, and the secret that lies within." - Kelle Hampton
There aren't enough beautiful words to describe her blog, and the way it will change you and your perspective after you read it.
So today, I wanted to share with you and pass along this blog with an amazing story and message. When you jump on over to Kelle's blog click on the tab at the top that says "start here if you're new" and start reading. You won't be sorry, and you won't be able to stop.
Oh, and PS- Have the tissues handy!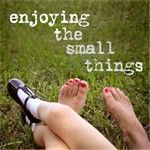 Happy Monday, er....Friday Everyone!!